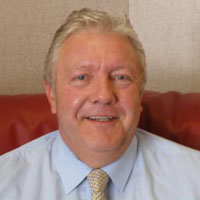 Max Horne
Max Horne was born in Duns in Berwickshire, Scotland and stayed in The Borders of Scotland to complete his primary and secondary education. On leaving school he pursued a diploma in business studies before beginning a 5 year cost accountancy journey, both in industry and public service. At age 27 he took a slight change in direction from the accountancy business and joined one of Britain's largest pension and life assurance companies as their consultant for Fife, Scotland.

It was during this time he identified an appropriate partner for his first business venture and joined forces with a motor insurance broker to set up the life insurance and pension division for that business. The business grew rapidly with Max becoming a partner immediately but after 5 years he decided that increased specialisation of life insurance and pensions, together with the new regulations that were being put together by the Government at that time, encouraged him to trade on his own and form Max Horne Financial Services. This company had continuously traded before merging with the well know Fife business of Denholm and Brown in September 2007 to form Max Horne Group LLP.

A great believer in qualifications and continuous learning, Max Horne has some of the financial industry's highest qualifications, being a holder of the coveted Certified Financial Planner Designation and is also a Diploma holder Of the Personal Finance Society. Since 1992 he has being a member of Million Dollar Round Table which is the World's leading association of financial professionals with over 25,000 members worldwide and has also being a seven time member of MDRT's Top of the Table which represents the top 0.5% of the industry's professionals world wide.

Through friendship with some of the World's top insurance practitioners, Max Horne has been exposed to "cutting edge" client focussed solutions which maximise and protect his client's existing wealth.

He is the creator of The Wealth Maximiser Programme, a trademarked process which ensures that client's assets are managed in the most efficient way.

In his spare time he devotes time to his son and daughter and their children and for recreation plays golf, scuba dives and skis in the winter. Together with his son, Max has also being extensively involved in motorsport both as a team owner and a lifelong competitor.